News & Updates
Core Google Algorithm Update Rolling Out Today
May 05, 2020 01:03:59 PM
Google's Danny Sullivan has confirmed that Google is releasing a broad core algorithm update, as this happens several times per year. This update will officially be called as the "May 2020 Core Update".
Google's guidance about this core update remains as it covered before. Read more at What webmasters should know about Google's core updates.
Actually, this update is the second core algorithm update in 2020, where the first update was in January.
During the COVID-19 situation, we thought that Google will pause any core algorithm update, but this happened.
The purpose of core algorithm update
The "May 2020 Core Update" is designed to produce a wide range of effects across Google SERPs in all countries and languages.
To read more about this update, visit this link.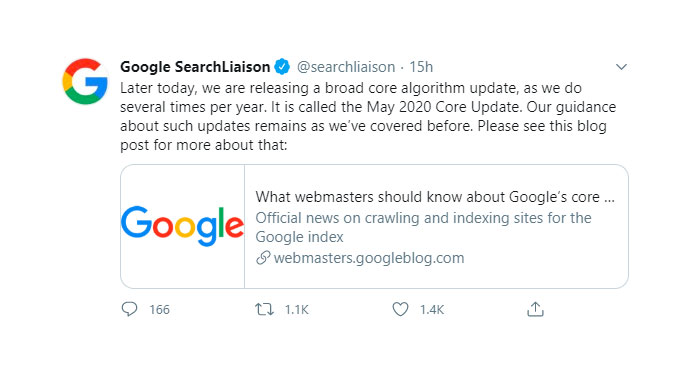 All-in-one Digital Marketing Tools
1 Complete workflow for any SEO professional.
2 Market insights and competitors' strategies overview.
3 Create content that drives excellent marketing results.
4 Improve the results of your PPC efforts.
5 Build your most effective social media strategy.
Join > 5,000,000 SEMrush users
Start Now »