4 Tips to Integrate Social Media Into Your Website to Generate More Traffic
Originally published: November 23, 2022 12:02:11 PM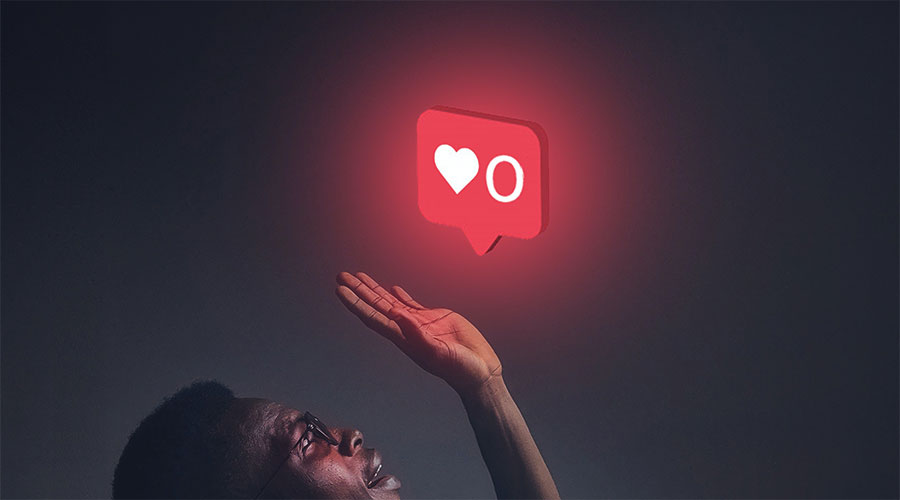 Do you generate website traffic from your social media marketing channels?
If not, you are missing out B-I-G time.
Data shows that 63% of marketers say their biggest challenge is generating leads and traffic.
One of the best ways to drive traffic and, in turn, get more leads is to tap into social media.
Solid social media strategies can boost your SEO, increase your website's visibility, and generate more people to visit your site.
The big question now becomes, how do you weave social media into your business website to boost your traffic?
Know the answers from the four tips below.
1. Showcase your live social media feeds on your website
Instead of just announcing your live social events or linking them on your website, show your social activities.
It's a great way to draw more people to your live social feeds while generating site traffic.
Plus, it lets first-time or passive visitors who don't follow you on social media (yet) engage with your event without leaving your web pages.
Remember to include compelling Calls-to-Action (CTAs) at your social live event's end to lead your viewers to your landing page and other sections on your website.
You can add hashtags to your announcements, live social videos, and post-event content.
For instance, include popular and relevant hashtags for Instagram Reels that showcase your event's highlights.
You can also include branded hashtags that lead your viewers to your social media profiles and, in turn, your website.
Use modern social media management platforms such as Vista Social.
The reliable platform offers tools to help you generate the right hashtags for your social media posts and web content.
The tool's features include hashtag suggestions, saved hashtags, hashtag reporting, and searching for User-Generated Content (UGC) by hashtag.
Read this comprehensive review of Vista Social to learn more about the platform and its sophisticated features.
Displaying your social media live feeds on your site can provide visitors with a more integrated and seamless experience.
The better the user experience, the higher the chances of visitors returning and buying. You can also get more eyeballs on your social live feeds and website.
2. Offer social logins
If you want to build your email list, getting customers to make an account on your website can be an effective way.
It can support your email and other marketing efforts, whether you sell retail items or Software-as-a-Service (SaaS), such as robust UI UX design software.
You'll get more opportunities to grow your conversions and sales.
However, not every customer or visitor likes this process.
Some customers get frustrated when they're ready to buy and find out they must sign up for an account first.
It's a surefire way of ruining the customer experience. It could cost you potential buyers, and you'll generate less website traffic.
One solution to simplify the website sign-up process is to incorporate a social sign-in.
It lets visitors sign up or log in quickly to your website with a few clicks and without typing information.
Your website visitors can click on the social login they want and sign in to their account on your website instantly.
It's a quick and convenient way for visitors to log in, improving their experience on your website.
If you run your site on WordPress, you can use social login plugins such as Social Login.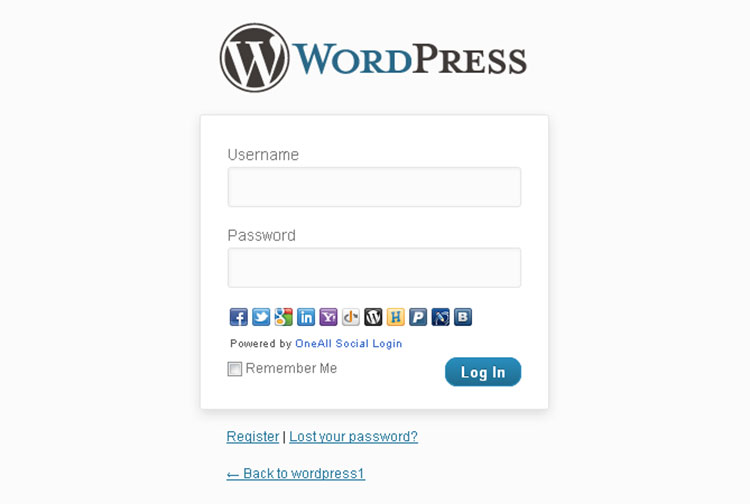 The free plugin allows your website users to register, log in, and comment using their social media accounts on Facebook, LinkedIn, Instagram, and others.
Simplify the process for visitors to register and sign in to your website. The easier they can log in, the faster they can buy.
3. Direct website visitors to your social customer service accounts
Social media is one of the best channels for prompt customer assistance.
For instance, you could run a social media account dedicated to customer service on your customers' preferred networks.
If you direct your website visitors to your social media customer service accounts, you can give prompt customer assistance while boosting traffic.
The Wix Help Twitter account is a classic example of a dedicated social media account for customer service.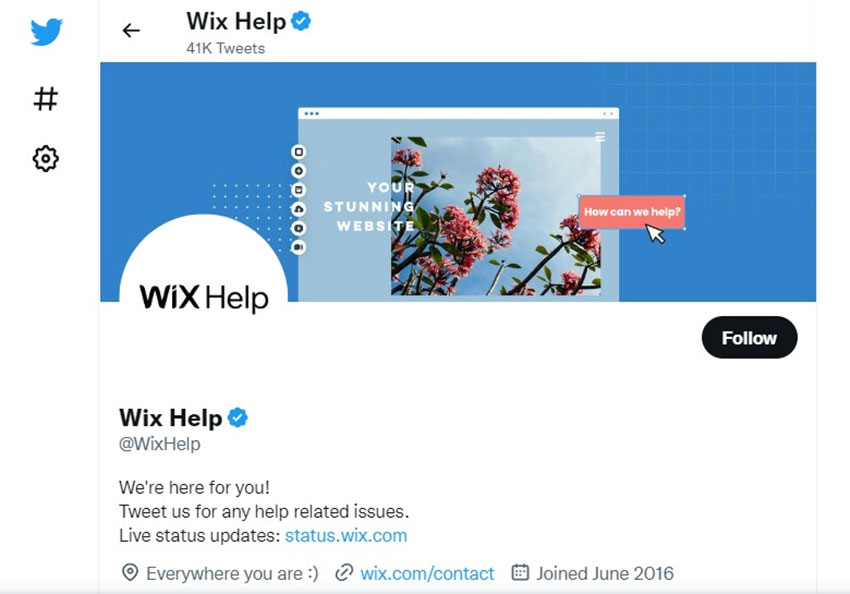 The account is intended to assist customers with their help-related issues.
You can implement a similar approach, including sharing links to your FAQ page on your website to answer customer queries.
For instance, you can tweet a link to your website's marketing hacks or a comprehensive content writing guide if you provide marketing and content writing services.
This way, you can address common customer queries and share relevant content while directing significant traffic back to your website.
4. Display clickable social media icons
Some people prefer getting to know your brand better through your social media accounts.
Why not make it easy for your prospects to do this?
An effective approach is to place social media buttons on your site that lead visitors to your Facebook, LinkedIn, Instagram, and other social network profiles.
Doing so allows visitors to find your social media profiles and feeds, providing a seamless brand experience while encouraging prospects to follow you.
Add social media icons across your website's visible parts.
For instance, you can display social media icons on your popular blog posts, such as the article on developing content tracking strategies.
It's a great way to draw more people to your website while encouraging visitors to follow your brand on social media.
You can also display your clickable social media icons on your top and bottom navigation bars, at the side of your homepage, and other visible places and pages on your site.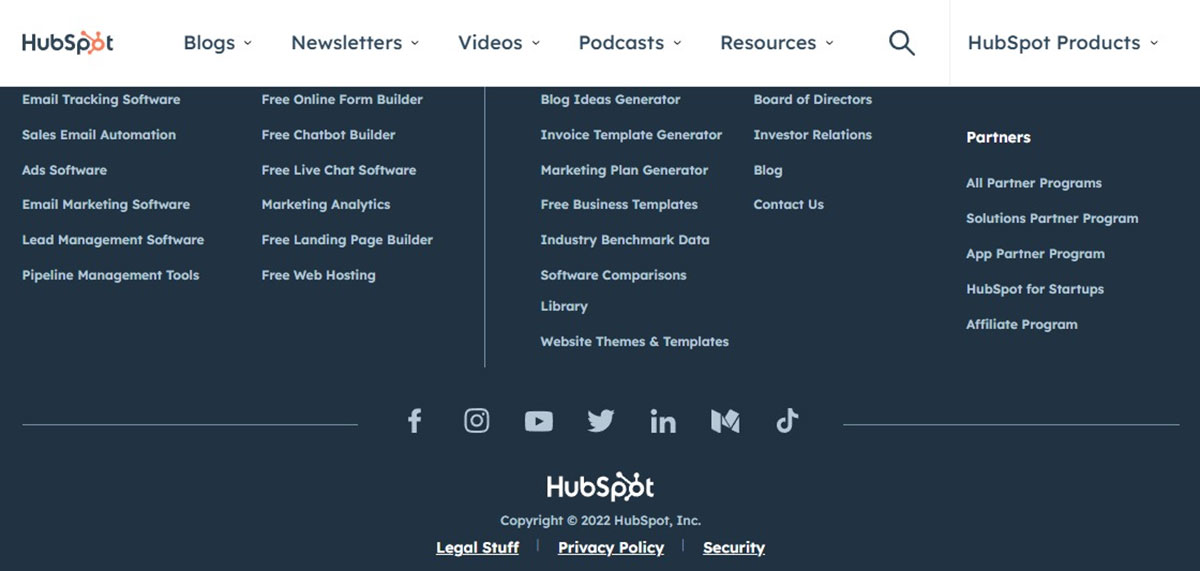 The screenshot above from HubSpot is a classic example.
Visitors can click on the icons and be taken directly to HubSpot's social media accounts.
Conclusion
With the right strategies, you can double your traffic by integrating social media into your website.
Learn from this guide's time-tested tips to combine social media and your website.
Weave these tactics into your existing efforts to generate more traffic and, in turn, improve your site's visibility and increase your opportunities to convert leads and sell more products.
Digital Marketing Audit
Get an accurate evaluation of existing performance, which helps identify new opportunities for expansion and improvement.