SEO tools like Moz, Ahrefs, & SEMrush charge $950 to $9,900 a year. With us, you only pay $119 a year (we have the option to spend on a monthly basis) to start analyzing your website and getting step-by-step instructions on how you can optimize for Google, Yahoo, and Bing. Sign Up Now
How to Set Up and Track Conversions in Google Analytics
Originally published: November 23, 2021 02:32:37 PM, updated: November 19, 2022 12:00:00 AM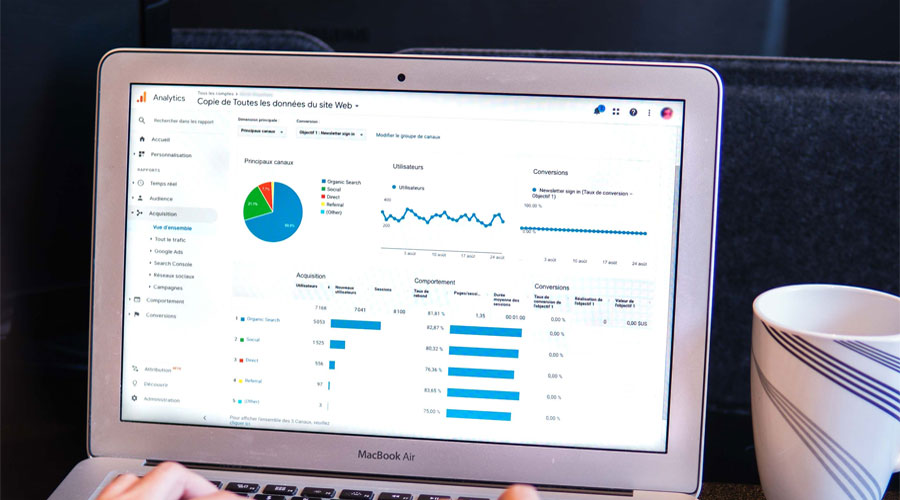 Google Analytics is one of many tools provided by Google to help website owners understand what their visitors are doing on their site. You may use the tool to track and analyze vital data about your site and visitors. "Is Google Analytics Free?" it's a common question — Yes, and it is one of the most widely used free tools.
What's conversion?
When a site visitor completes a targeted goal, like filling out a form or making a purchase, this is known as a conversion. Your conversion rate is the percentage of total visitors who convert. Depending on your website's or business's goals, conversion types may include:
Online sales
Leads
Email signups
Form completions
Conversion tracking is required in order to track conversions, conversion rate, and cost per conversion.
The process of increasing your conversion rate is known as conversion rate optimization or CRO. One of the approaches used to test and analyze the conversion performance of different landing sites or adverts is A/B testing, often known as split testing. It helps determine which components of your adverts and pages are most effective in increasing your online conversion rate. For example, on your landing pages, you may test alternative headlines, buttons, calls to action, and graphics to determine which variants result in more conversions.
Let's get started!
To track conversions in Google Analytics, you need to follow the steps below:
Step 1:
Log on to Google Analytics, click "Admin," and then select "Goals."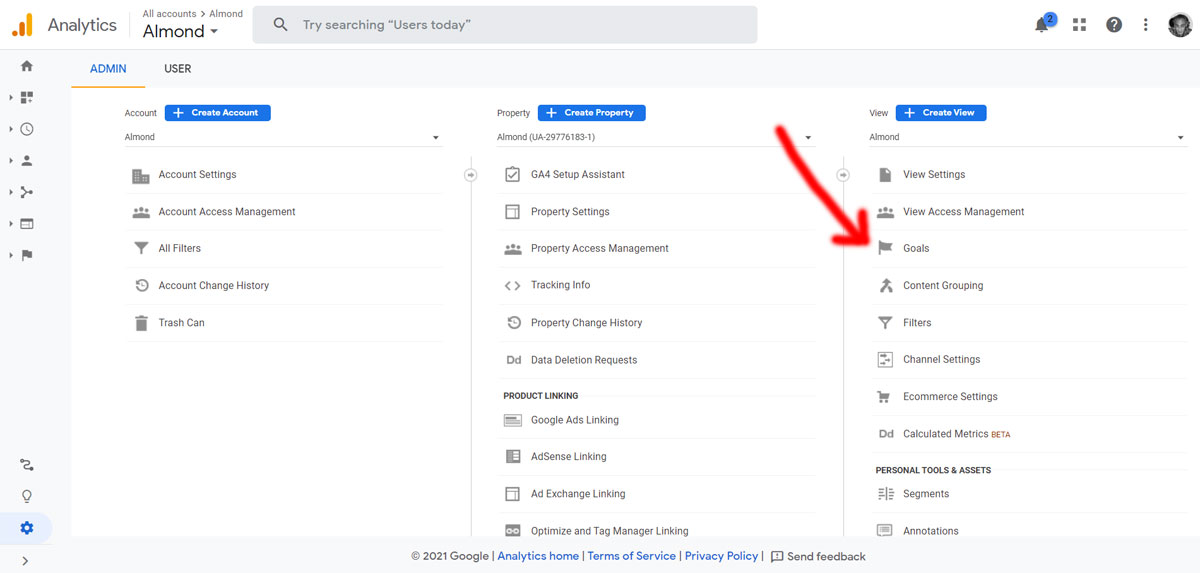 Step 2:
Click the red button "+ New Goal." This will guide you to follow the steps you need to set up your business goal(s).

Step 3:
Under Goal setup, select the "Template" radio button if you want to start with a pre-filled configuration or the "Custom" radio button if you want to define your consumer interaction with your website.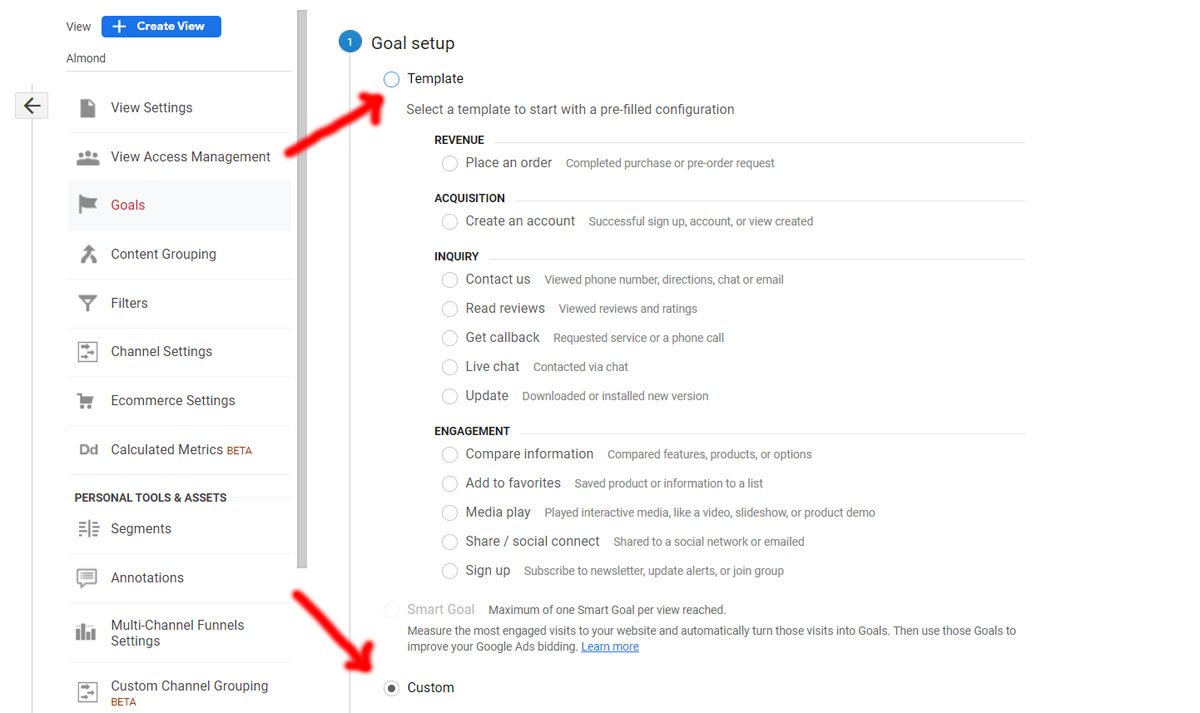 Step 4:
Next, you'll be asked to name your goal and select a goal type. Select Destination as the type and enter any name that will help you remember the conversion you're tracking. Then press the Continue button.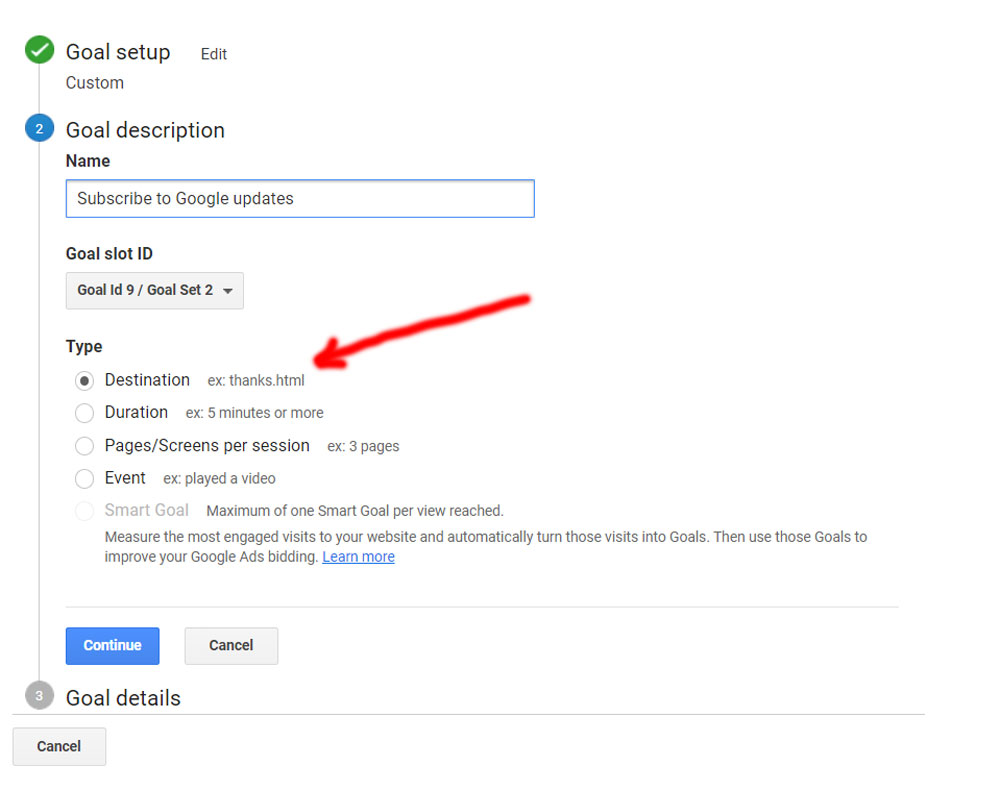 Step 5:
You'll need to provide the URL for your thank you page, which is the page a new subscriber sees after signing up.
Toggle Value "ON" if you want to specify a monetary value for the conversion. If you know how much each email lead is worth to you, go ahead and do it. (For example, if you know that a customer's average lifetime value is $500 and your average customer acquisition rate is 1%, each lead is worth $5.)
We'll overlook the Funnel option for now because it's usually more beneficial if you're tracking a conversion that occurs further down your funnel (such as a sale).
Then press the Save button.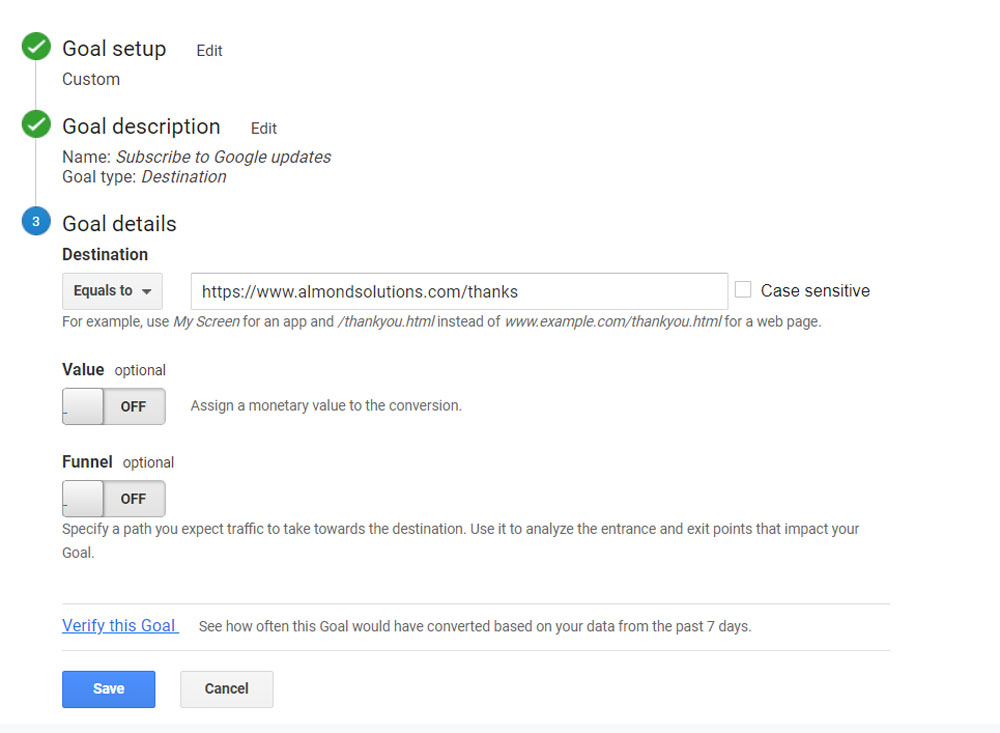 How to start tracking conversions in Google Analytics?
You don't have to worry about anything once you've put up your goal(s) — Google Analytics will begin collecting data. All that's left for you to do now is wait. If you want to stop tracking your objective for whatever reason, simply set the Recording option to "off."
You may see which channels are the primary traffic sources in the Acquisition > Overview area.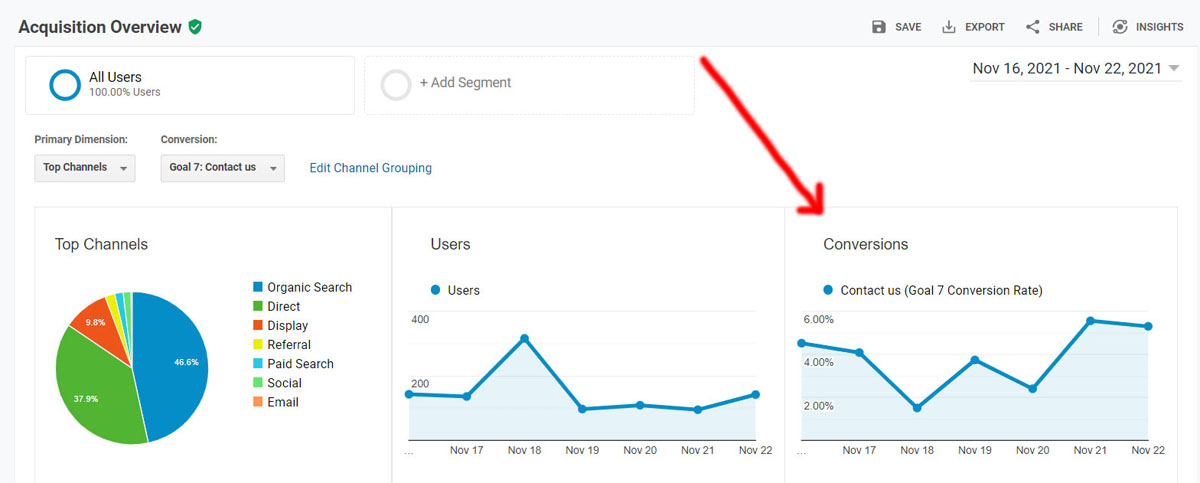 Look at the graph on the right to see the matching number of conversions. It's the conversions that we're interested in.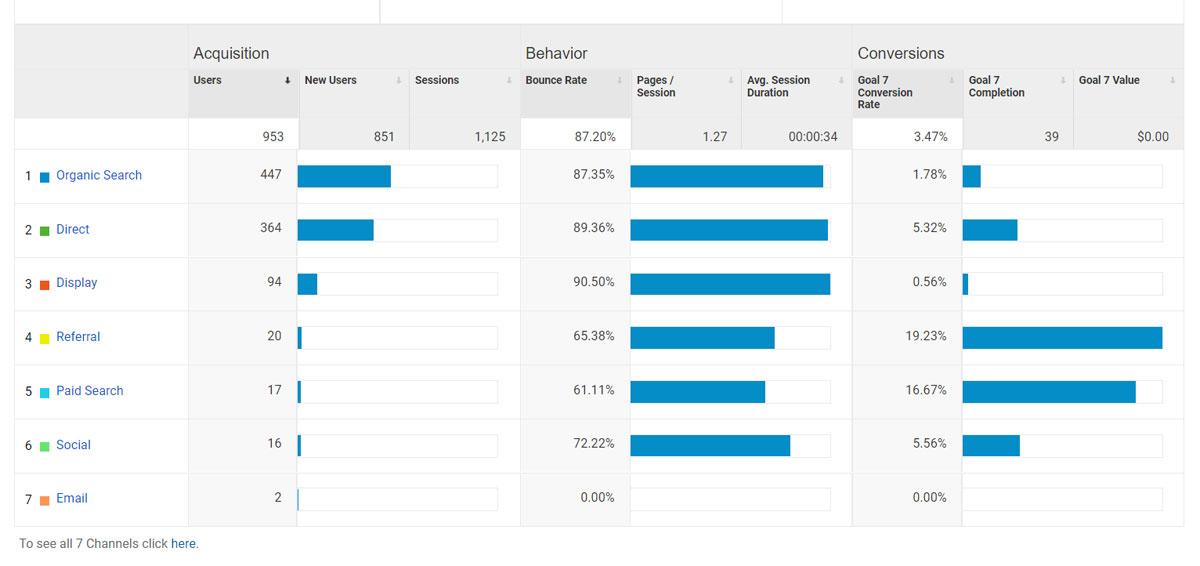 You've basically arrived at the stage where you can measure your conversions. You can see which channels bring in the most valuable users or those who convert. You may see the monetary worth of your goals here on the right if you've already set it. Depending on your preferences, you can also narrow down the examined period to a specified time, such as a month or year.
What's the point of it all? You can quickly determine which channels to focus on by studying this data. Organic search brings in a lot of traffic but little conversions? Perhaps the aim was created incorrectly - it's important to pay attention to these kinds of signals.
Keep in mind that tracking conversions through tracking goals necessitate the creation of a different goal for each marketing campaign. It's also crucial to distinguish between the URLs you're tracking; otherwise, Google won't be able to differentiate between them.

Need help in configuring Google Analytics to take advantage of all the features? Contact us
Conversion tracking differences between Google Analytics and Google Ads
If you use both Google tools, you undoubtedly think which is better for conversion tracking.
Recommended articles:
How to Design a Website that Converts
5 Best CRO Practices for Email Marketing
Remember that Google Analytics and Google Ads use different methods to calculate the data you supply. So, suppose they provide somewhat different information. In that case, it doesn't necessarily indicate you made a mistake while putting up the tracking numbers — they may employ different methods, which could explain the differences. Here are the differences that we are talking about.
The percentage of conversion credit may be different
Consider the following scenario: a user sees a website for the first time as a result of a shown paid ad but does not make a purchase or enter the target page until the next day, after searching for the page in Google or inputting the URL directly. By default, Google Ads will attribute such a conversion to the last click on a paid ad, whereas Google Analytics will attribute it to organic search results or the direct channel.
Recommended video: Google Ads Conversion Tracking
Various transaction dates
Not the activity itself, but the date and time corresponding to clicking on the advertisement, which eventually led to achieving the goal, is how Google Ads defines conversions. If a consumer clicks on an ad on November 23, 2021, but purchases the product on November 25, Google Ads will record November 23, while Google Analytics will record November 25.
Quite a few conversions
It's worth mentioning that there is no such thing as a "session" in Google Ads, which is essential for Google Analytics because 1 session = 1 objective in Ads. Because Google Ads doesn't make this distinction (unless you set up custom options), the total number of conversions for both tools may differ.

Let's audit your Google Analytics to make sure there are no errors or gaps in the data collection process (starting at $90). Contact Sales
Digital Marketing Audit
Get an accurate evaluation of your current marketing performance, which helps identify new opportunities for expansion and improvement.