Which is the Best eCommerce Website Builder
Originally published: October 02, 2021 10:32:02 PM, updated: October 03, 2021 10:12:39 PM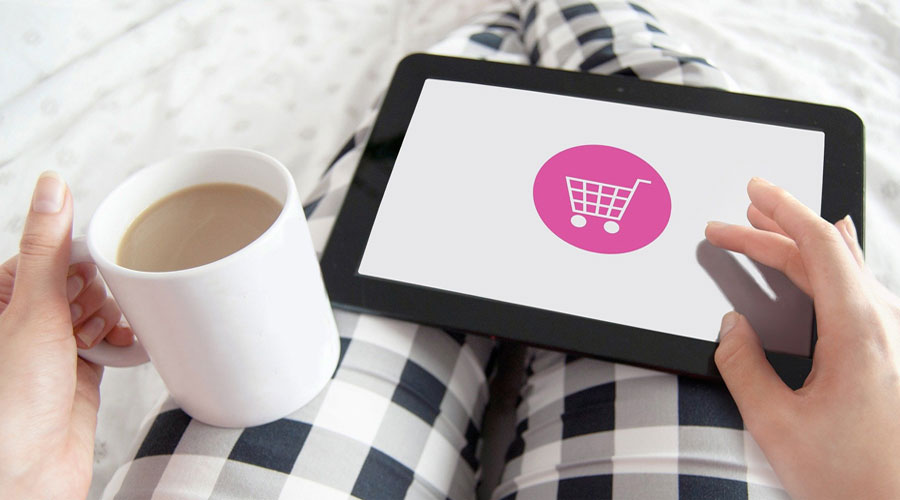 Many events occurred during this period that shaped the world we live in today. Examine your surroundings to discover how everything is within your grasp. Everything is at your fingertips with just a few mouse clicks! Do you need to make a hotel reservation? Do you want to make a two-person dinner reservation? Are you looking for a way to pay your staff without mailing them a check? Everything is accessible via the Internet, and the possibilities are limitless. Ecommerce is one of the many fascinating things we can do now.
We hear about eCommerce all over the Internet, and many people believe it is the way of the future for retail.
The design of your eCommerce store can determine whether customers make a purchase or move on to another company. As a result, it's vital to design your eCommerce site in a way that's not only cost-effective for you but also simple to use for your clients (and leaves a great impression).
What is an eCommerce website?
eCommerce, often known as electronic commerce or online commerce, is the purchasing and selling of goods and services through the internet and the money and data transfers required to complete these transactions. eCommerce is frequently used to refer to the online sale of real goods, but it can also refer to any economic transaction that is made possible by the internet.
While e-business encompasses all aspects of running an online firm, eCommerce focuses on exchanging goods and services.
Since then, eCommerce has progressed to make it easier to find and buy things through online shops and marketplaces. Independent freelancers, small enterprises, and huge organizations have benefited from eCommerce, which allows them to offer their products and services more immensely than traditional offline shopping.
eCommerce website types
Depending on the function they serve, several eCommerce websites are named or referred to in different ways.
Business-to-Business (B2B): Electronic transactions of products and services between companies.
Business-to-Consumer (B2C): Electronic transactions of products and services between companies and consumers.
Consumer-to-Consumer (C2C): Electronic transactions of products and services between consumers, mainly through a third party.
Consumer-to-Business (C2B): Electronic transactions of products and services where individuals offer products or services to companies.
How do eCommerce websites work?
eCommerce websites follow a set of steps that include the use of website code, databases, and third-party programs like a payment processor or payment gateway.
ECommerce websites use SSL certificates to safeguard and encrypt all data transfers. Sensitive information, such as credit card numbers, should never be maintained in a website's database unless it complies with all applicable rules, including PCI Compliance.
Typically, eCommerce websites operate in the following manner:
A potential buyer lands at an eCommerce website through search engines, paid marketing, referral traffic, or other means.
The eCommerce website is linked to a database that holds a wealth of information about the website's categories, items, product dimensions, weight, articles and content, photos, etc. The website requests this data to render any requested web pages dynamically.
A potential customer adds items to the shopping basket and decides to check out after perusing the eCommerce website.
The shopper finishes the checkout process and completes the purchase.
The shopper's credit card info is encrypted and transmitted to a Payment Gateway (such as PayPal) for secure and remote credit card processing.
When a purchase is placed and paid for, the website will usually include an anticipated shipping time, a unique transaction number, and a postal tracking number, among other things. The majority of these procedures are automated and are part of the essential operation of a decent eCommerce website.
Orders are maintained in the website admin and transmitted to an order fulfillment team as transactions occur. Order fulfillment can be handled in-house or outsourced to a third-party drop shipper.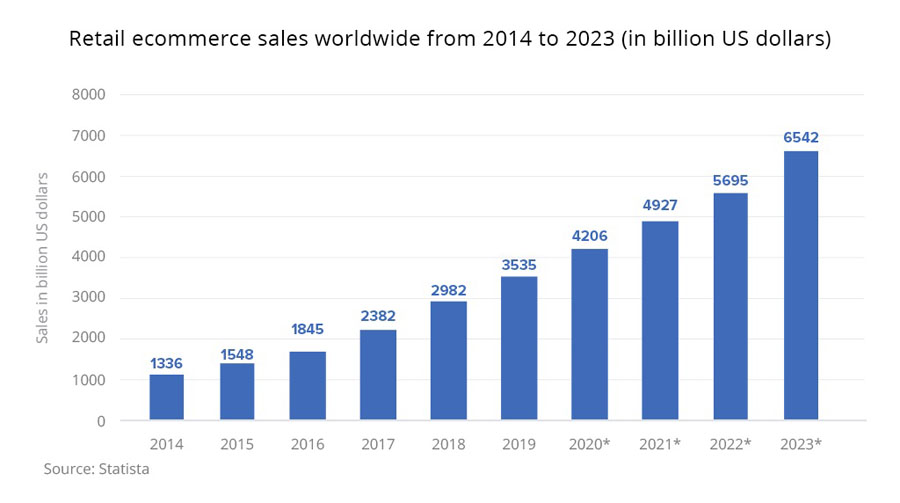 eCommerce website builder
Below are the best eCommerce website builders to start selling online. Which one is the best? It all comes down to what you're looking for.
Shopify

Small businesses wishing to expand should choose the best eCommerce website builder available. Shopify is the simplest and most dependable way to get your company online. Shopify is an eCommerce platform that makes it simple to create an online store without coding knowledge or a large budget. Shopify is a platform that runs over one million businesses and is known for its low prices, attractive designs, and helpful marketing tools.
Suppose you want to start a Shopify store. In that case, you can pick from over 100 professional templates with built-in features like SSL certificates, domain hosting, abandoned shopping cart recovery, and other valuable tools to help you find clients, generate sales, and run your business. With Shopify's native partner integrations, you can sell an unlimited number of products through your eCommerce site and across numerous marketplaces like Amazon, eBay, and Etsy.
BigCommerce

BigCommerce is an all-in-one eCommerce platform designed for large online stores. It comes with more complex eCommerce features designed to handle enormous volumes and a large number of products.
They're a lesser participant in the sector, with a customer base of 100,000+ outlets that include huge brands like Ben & Jerry's and SkullCandy. However, this does not diminish the platform's potency.
BigCommerce is overkill for your online store if you're just getting started. However, if you're a well-established company or want to sell in large quantities, it's a great option.
WooCommerce

WooCommerce is the best solution if you already have a WordPress website and want to add shopping cart functionality to it.
This plugin was created exclusively for WordPress and is currently one of the most popular WordPress plugins available.
You'll need an existing WordPress site to get started with WooCommerce, and that means you'll be responsible for your own domain registration and hosting. Installing the WooCommerce plugin is entirely free.
Wix

Wix is now tackling online stores through its nontechnical website builder, following the industry trend of eCommerce. Wix's drag-and-drop builder can help you construct an online store that suits your requirements. Wix makes it simple to get online with customizable templates, domain name registration, and web hosting.
What is the principal disadvantage? You can create a free eCommerce website, but you won't be able to sell anything unless you switch to a paid plan.
Wix includes a few tools that can assist you in managing your eCommerce store. You can track orders, accept online payments, sell across numerous channels, and create abandoned cart campaigns using it. Wix's basic package, on the other hand, is missing certain key inventory management features like low-stock notifications, tax calculators, and dropshipping options. You'll want an eCommerce platform with better inventory-tracking tools if you have a large inventory.
Squarespace

Squarespace takes pride in its ability to provide users with "standout web storefronts." Knowing that an eCommerce site isn't simply for selling physical things, the platform offers templates to assist you in developing a website that attracts new customers while also allowing them to book your services.
Squarespace enables customers to browse your business and helps them find what they're looking for using a feature that offers additional related products if your website's primary goal is customer retention rates.
In terms of ease of use, Squarespace breaks down the procedure into six simple steps. To begin, choose an eCommerce template and sign up for a free trial. Then, register or transfer your company's domain name, add products to your online store, and link a payment processor. All that's left for you to do now is grow your online store through email marketing and SEO.
Why is it important to choose the best eCommerce platform for your business?
It takes more than merely putting your product listings on the Internet to start an eCommerce business, and it's a lot more complicated than you might think. Building and sustaining an eCommerce business requires the same strategic thinking and planning as running a traditional store or production site.
And if you nail this essential, you'll be able to take advantage of the digital environment, which allows you to automate and streamline numerous jobs and activities that previously required human intervention.
However, when choosing an eCommerce platform, keep in mind that your eCommerce site will determine the following four factors:
Growth: How fast can your company expand?
Running costs: This includes the cost of developing and maintaining your eCommerce platform as well as continuous development and maintenance.
Customer engagement: How can you manage how your customers connect with your company?
Objectives: The right eCommerce platform will empower you to deliver the service you set out to accomplish.

Want a strategic approach to start selling online using your own online store? Almond Solutions can help you in achieving that. Fast. Contact us
It's vital to note that many eCommerce providers prefer to concentrate on "surface" concerns such as design, UX branding, and content. However, the main challenges with eCommerce are in the business process, consumer interaction, and lead creation. All of these procedures can assist you in determining whether your eCommerce platform is generating a healthy return on investment.
Common mistakes to avoid when selecting an eCommerce platform
1. Purchasing a cumbersome monolithic platform
Slow and sluggish performance is the result of an eCommerce platform built on an inflexible monolithic infrastructure. Furthermore, if you only want to update a tiny part of your platform, you'll have to deploy the complete system, which might lead to extended downtimes.
Instead, go with an eCommerce platform built on a microservice architecture, making it easier to maintain, upgrade, and administer because all of the different components work independently and connect via API calls. As a result, both your team and your clients will have a more efficient experience.
2. Selecting a platform that is difficult to scale
Your business's growth is harmed by a platform that is difficult to scale. The lack of scalability in some systems is due to the fact that they do not enable multi-tenancy and multi-site and thus rely on either local servers or inadequate infrastructure.
3. There are too many options
This also applies to scalability, in which you purchase a platform with far more functionality than you require. You're not only receiving lousy value for your money, but you're also paying for features you're not using.
Choose a platform that meets the bare minimum of "must-have" features while also allowing you to add additional features and capabilities as your company expands. This will enable you to keep your spending in line with your company's growth.
4. Not having any goals
You will waste a lot of time and possibly choose the wrong eCommerce platform if you don't have pre-defined objectives at the start of the eCommerce decision process.
5. Customizing incorrectly
Many businesses choose an inflexible platform and then try to fit their internal processes and requirements into it. However, if you know what you need and want, you should find a platform that fits your brand for the most part while also being flexible enough to be adjusted for the rest.
Conclusion
As I mentioned, finding a good eCommerce website builder is the first step in selling online. Which one is the most effective? It all comes down to what you're looking for.
Got any questions? Ping me on Twitter.
Automate Your Entire Marketing and Sales Processes
As a HubSpot solutions partner, we can work with you every step of the way to automate your entire marketing and sales processes.