News & Updates
Aligning Search Console Testing Tools with URL Inspection Tool
October 12, 2021 12:42:28 PM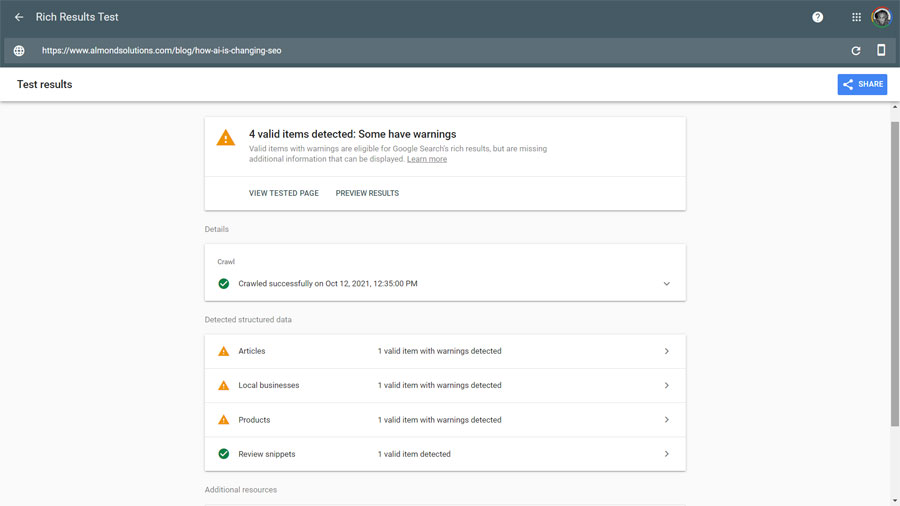 The Search Console team provides three standalone public tools to website owners and SEOs, specifically for AMP, Mobile Friendly, and Rich Results, to help them detect and fix errors in web pages.
These capabilities are powered by the same engine that powers Search Console's URL Inspection tool, growing over time. While the engine remains the same, the tools' user interfaces have evolved individually. Today, Google updates existing designs and adds new functionality to ensure that they're fully compatible with the URL Inspection tool.
The updates include standardization of previous capabilities as well as new functionality similar to those found in the URL Inspection tool. In particular, both public testing and URL inspection tools will now report the following fields.
Page availability - Whether Google could crawl the page when it was crawled and any problems it ran into while crawling the URL.
HTTP headers - The response from the inspected URL's HTTP headers.
Page screenshot - The rendered page as seen by Google.
Paired AMP inspection - Inspect both the canonical and AMP URLs.
What is the URL Inspection Tool?
The URL Inspection Tool helps you diagnose SEO issues on your site by showing you what information Google has on file about the accessibility and indexability of your URLs and allowing you to test URLs in real-time.
This tool is only for inspecting web pages, not other file formats like PDFs, pictures, or videos.
The most valuable elements in Google Search Console for detecting and fixing SEO issues are the URL Inspection Tool and the Index Coverage report.
Daniel Waisberg demonstrates how to use the URL Inspection tool in Search Console in the below episode. Learn how to check your sites' index status, test a live URL, request Google to crawl a specific page, and read detailed information about the page's loaded resources (among other things).
Automate Your Entire Marketing and Sales Processes
As a HubSpot solutions partner, we can work with you every step of the way to automate your entire marketing and sales processes.