News & Updates
Does Bolded Text Help SEO
November 16, 2021 10:00:24 AM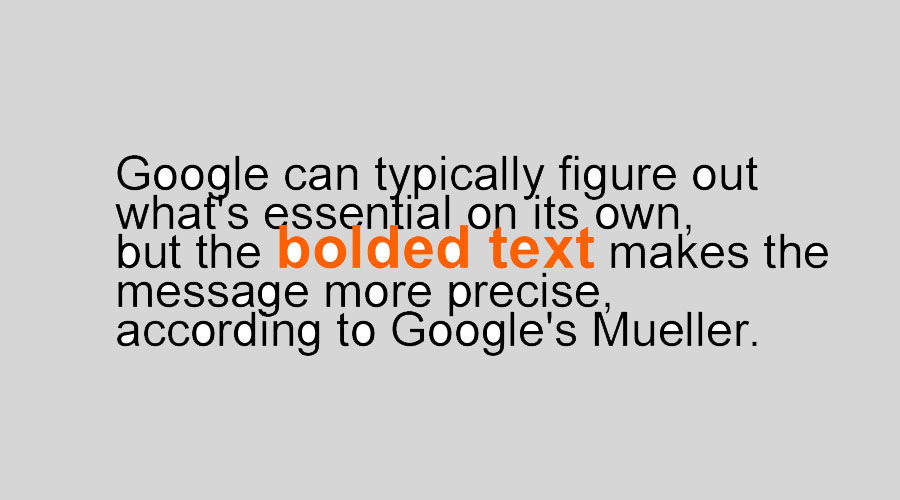 During the Search Central SEO office-hours hangout held on November 12, 2021, Google's Mueller confirmed that bolding important text in a paragraph could improve the site's SEO by allowing Google to understand the content better.
Mueller refers to a video from former Googler Matt Cutts in which this subject was briefly discussed during the office-hours hangout session while responding to the inquiry.
"This is a concern that arises from time to time. I double-checked before the session, and Matt Cutts did a video about bolding and strong on sites in 2012 or something around that time."
Google can typically figure out what's essential on its own, but the bolded text makes the message more precise, according to Google's Mueller.
"So we normally try to figure out what the content on a web page is about, and we look at various elements to try to figure out what is being emphasized here, which includes things like page headings."
However, it also covers elements like what is bolded or highlighted inside the text on the page. So, to some extent, that adds a little bit of value in that it's a clear indication that you believe this page or paragraph is about the matter at hand.
And since that usually corresponds to what we believe the page is about, it doesn't change much."
Bolding text, in my opinion (not Mueller), provides no technical SEO benefit. It does, however, have a "soft" SEO effect in that it can make the web page content more accessible and readable for users. This may increase the likelihood of it being shared, linked to, or otherwise quoted, increasing your potential reach and thus providing Google with good ranking signals.
Here is the Mueller response:
Automate Your Entire Marketing and Sales Processes
As a HubSpot solutions partner, we can work with you every step of the way to automate your entire marketing and sales processes.