News & Updates
Google Ads Editor v2.0
April 13, 2022 01:03:21 PM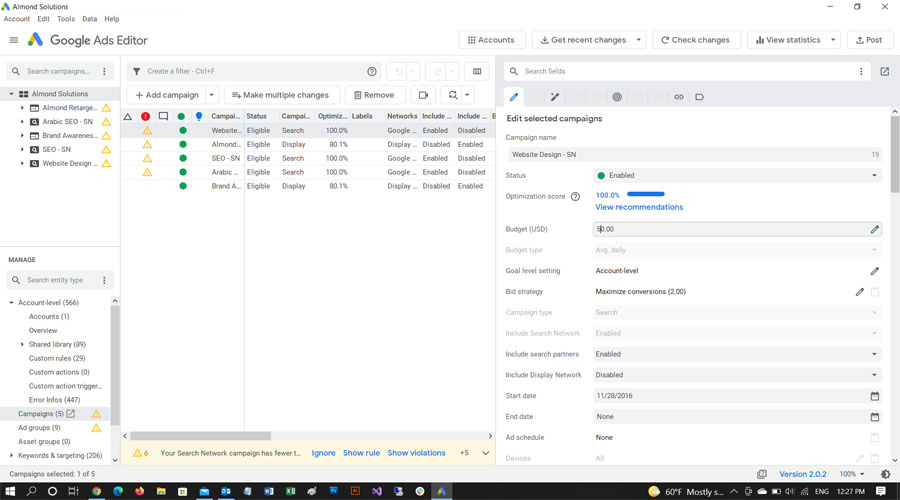 Google Ads Editor v2.0 is now available. Performance Max campaigns, conversion objectives, and other features are now supported in this edition.
Max-Performance campaigns
Performance Max campaigns can now be created and edited directly in Google Ads Editor, making it easier to identify more converting customers across all of Google's channels, including YouTube, Display, Search, Discover, Gmail, and Maps.
Organizing conversion actions
Google Ads Editor now supports conversion objectives to help you arrange your conversion actions and optimize toward your selected marketing goal. At both the campaign and account levels, this allows adjusting goal settings and applying goals.
Get a clear picture of your campaigns
Google added support for campaign-level overviews on the overview tab in Google Ads Editor. You'll also notice several new cards on the overview tab, including customs rules, optimization scores, top campaigns, and more.
Using a combination of segments to reach out to your customers
In Google Ads Editor, you can now create and edit composite parts. This is a simple technique to reach out to specific groups of people who might be interested in your products or services.
Recognize how your assets perform
Asset reporting is now available in Google Ads Editor. This can help you compare the performance of your assets to other assets of the same category within a campaign.
Using custom action triggers to automate repetitive operations
In Google Ads Editor, Google added support for custom action triggers to make it easier to handle repetitive operations. This provides the ability to do custom actions in response to a specific event, such as adjusting bids when certain metrics are fulfilled.
Google Ads Editor's Advantages
Any advertiser can use Google Ads Editor with any size account, but it's convenient for accounts with several campaigns and extensive lists of keywords or ads. You can, for example:
To make several changes rapidly, you can use bulk editing tools.
To discuss proposals or make changes to an account, you can export and import files.
View campaign statistics for all or a subset of campaigns.
Multiple accounts can be managed, edited, and viewed simultaneously.
Replace text across many ad groups or campaigns.
Items can be copied or moved across ad groups and campaigns.
While updating your campaigns, you can undo and redo several changes.
Changes can be made in draft mode before being uploaded to your account.
If you're not online, you can keep working.
Source: Google Ads Help
Automate Your Entire Marketing and Sales Processes
As a HubSpot solutions partner, we can work with you every step of the way to automate your entire marketing and sales processes.