News & Updates
More and Better Data Export in Google Search Console
February 26, 2020 09:08:23 PM
Google announced today that site owners can now export more and better data through Google Search Console. Google rolled out this feature according to user's needs.
When exporting data, for example AMP status, you'll get more data behind the charts including daily breakdown of pages, status, and impressions received by these pages on search results.
The previous version of data file was limited to csv, but with the new updates, you can download the file as Google Sheets or Excel in addition to csv – if you choose csv, you will get a zip file including two csv files. But with Google Sheets or Excel, you will get one file with two tabs.
Here are the improvements made on performance report of GSC:
Site owners can now export data that includes search queries, pages, countries, devices, search appearance, and dates.
Depending on the exported data file, you'll see an extra tab (or csv file) called filters.
For more information about this improvement, go to Google Webmaster Central Blog.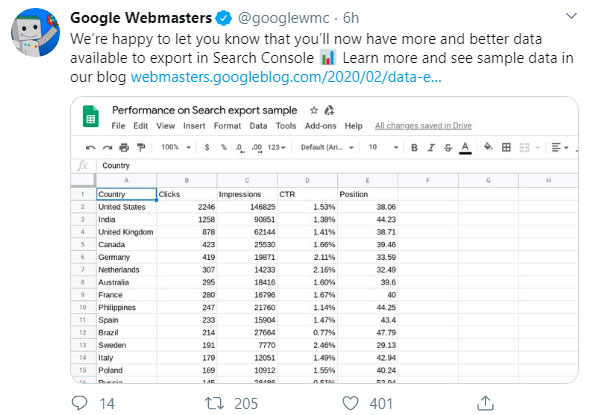 Helpful Links:
The Ultimate Guide to Google Search Console in 2020
GOOGLE SEARCH CONSOLE: The Definitive Guide
How to add your website to Google Search Console
How to Use Google Search Console to Drive 28% More Search Traffic
A Complete Guide to the Google Search Console
Google Search Console to Report on Data Related to Product Rich Results
Google Search Console: Everything You Need to Know to Improve Your SEO
All-in-one Digital Marketing Tools
1 Complete workflow for any SEO professional.
2 Market insights and competitors' strategies overview.
3 Create content that drives excellent marketing results.
4 Improve the results of your PPC efforts.
5 Build your most effective social media strategy.
Join > 5,000,000 SEMrush users
Start Now »