News & Updates
Parallel Tracking for Video Campaigns
March 14, 2020 05:31:15 PM
Google extended the deadline of adopting the parallel tracking for video campaigns to June 15, 2020. This extension is because Google wants to give more extra time for Google Ads users to make the transition.
Google said if the advertiser already completed the work needed for adopting the parallel tracking, he is welcome to finish the process and opt-in.
Google will keep monitoring the situation and will make adjustment for the date if necessary.
What is parallel tracking?
Parallel tracking is an alternative method to Google's traditional click tracking. Parallel tracking helps speed the page load time by running third-party trackers in the background instead of user's redirection, and this will lead to increase conversions for the Google Ads advertisers.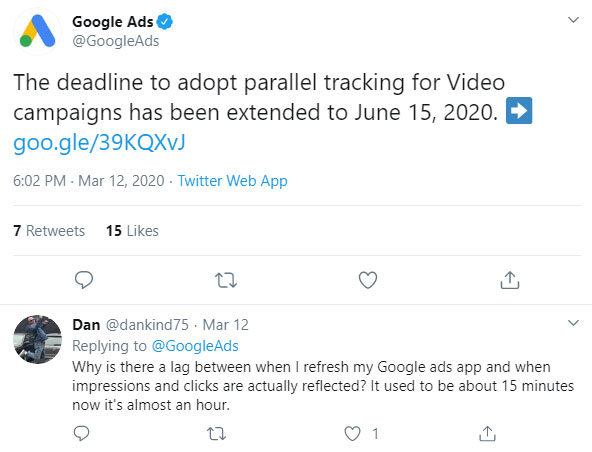 Helpful links:
Parallel Tracking: What is it & Why Google Ads is Making it Required
Google Ads Makes Parallel Tracking Mandatory for Video Campaigns
Parallel tracking goes live for Google Ads display campaigns May 1
Parallel Tracking Is Becoming Mandatory for Google Ads Video Campaigns
All-in-one Digital Marketing Tools
1 Complete workflow for any SEO professional.
2 Market insights and competitors' strategies overview.
3 Create content that drives excellent marketing results.
4 Improve the results of your PPC efforts.
5 Build your most effective social media strategy.
Join > 5,000,000 SEMrush users
Start Now »