News & Updates
Resubmissions and Appeals of Google Ad Policy Issues
March 21, 2020 02:19:49 PM
Google launched a new tool for Google Ads advertisers in order to allow them to resubmit or appeal policy issues instead of contacting customer support in case their ads are disapproved.
Google said, our advertising policies are existing to protect users, advertisers and publishers from the bad behaviors and provide high-quality ads on our platforms.
Google understands that sometimes advertisers make mistakes while implementing their campaigns, and the resubmission/appeal feature will speed up the process and help businesses get their ads up and running as soon as possible without contacting the customer support.
To this time, all resubmissions and appeals made by Google Ads advertisers should go through Google support team.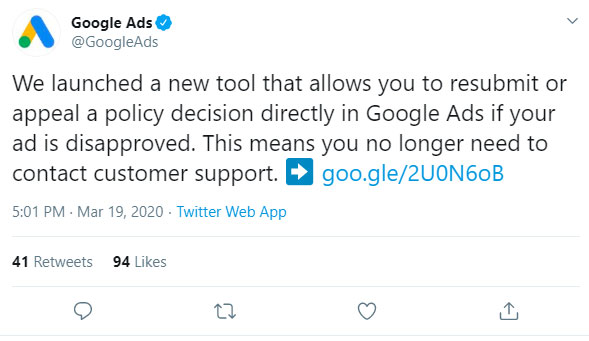 All-in-one Digital Marketing Tools
1 Complete workflow for any SEO professional.
2 Market insights and competitors' strategies overview.
3 Create content that drives excellent marketing results.
4 Improve the results of your PPC efforts.
5 Build your most effective social media strategy.
Join > 5,000,000 SEMrush users
Start Now »