News & Updates
Google's Core Updates
November 13, 2019 08:18:50 AM
Google tweeted that we have updates that happen from time to time in Google Search. Google said, If we don't share about them with you, that means, there is no particular actionable guidance to follow nor changes to make other than to keep focused on great content as we've advised generally such as here.
Google usually makes updates in order to offer the best for searchers. Some changes are noticeable and Google's share them with us in order to take action and improve the website in a way that match these changes. In this case, Google gives webmasters and site's owners a good time (months) in order to make improvements.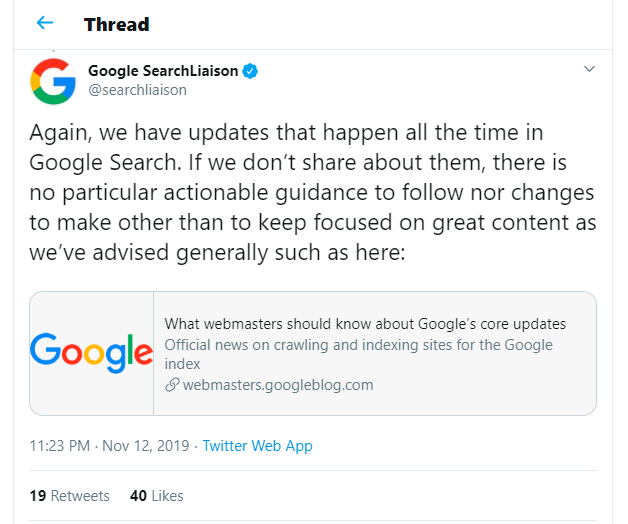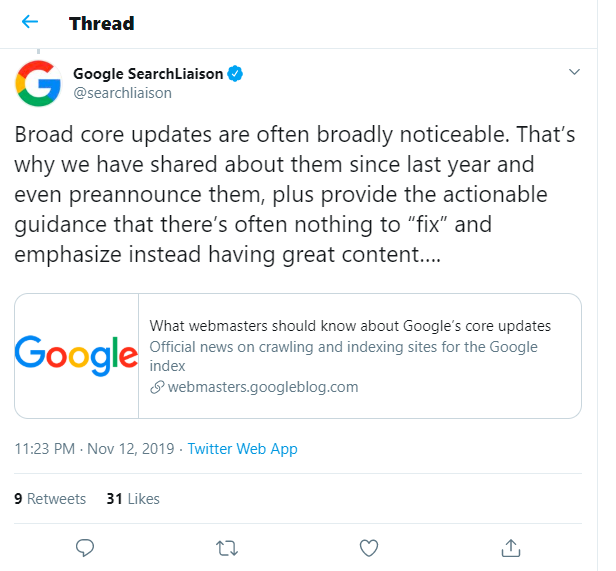 Simply put, if you follow Google's webmaster guidelines, your business will be always in save. Violating Google rules will result to let Google remove your website from the Google index or being banned.
Here are the basic principles that Google love:
Develop your web page to serve users, not for search engines.
Don't deceive your users.
Don't use the black-hat process to improve your website rankings.
Think about user experience.
All-in-one Digital Marketing Tools
1 Complete workflow for any SEO professional.
2 Market insights and competitors' strategies overview.
3 Create content that drives excellent marketing results.
4 Improve the results of your PPC efforts.
5 Build your most effective social media strategy.
Join > 5,000,000 SEMrush users
Start Now »