News & Updates
New Reports for Special Announcements in Google Search Console
May 06, 2020 06:30:32 PM
Google has rolled out new reports in Search Console for the special announcements. The purpose of these new reports is to help site owners and webmasters find any issues with the implementation as well as monitor the performance of the rich result type.
Special Announcements Enhancement report
The special announcements enhancement report is now available in Google Search Console for websites that have implemented SpecialAnnouncement structured data. The report enables the site owners and webmasters to get more info about the errors, warnings, and valid pages for the markup implemented on their sites. In addition to that, the site owners and webmasters can use the report to validate fixed issues by triggering Google to recrawl the affected web pages.
Special Announcements appearance in Performance report
With this report, site owners and webmasters can now see the performance of their SpecialAnnouncement marked-up pages on Google Search including, impressions, clicks, and CTRs.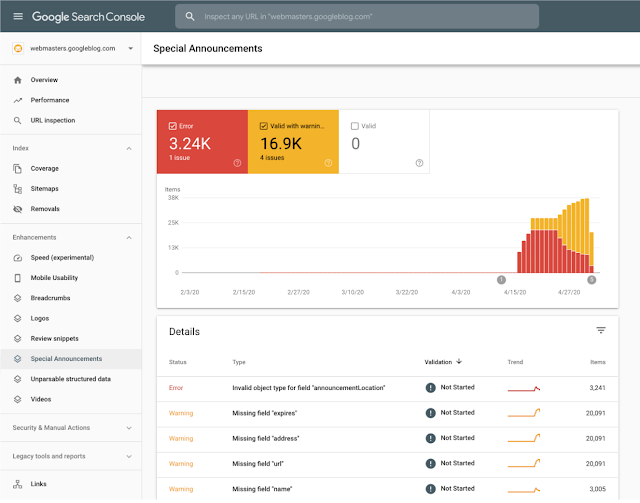 All-in-one Digital Marketing Tools
1 Complete workflow for any SEO professional.
2 Market insights and competitors' strategies overview.
3 Create content that drives excellent marketing results.
4 Improve the results of your PPC efforts.
5 Build your most effective social media strategy.
Join > 5,000,000 SEMrush users
Start Now »