The Impact of Artificial Intelligence in Digital Marketing
Originally published: October 20, 2020 01:27:20 PM, updated: November 19, 2022 12:00:00 AM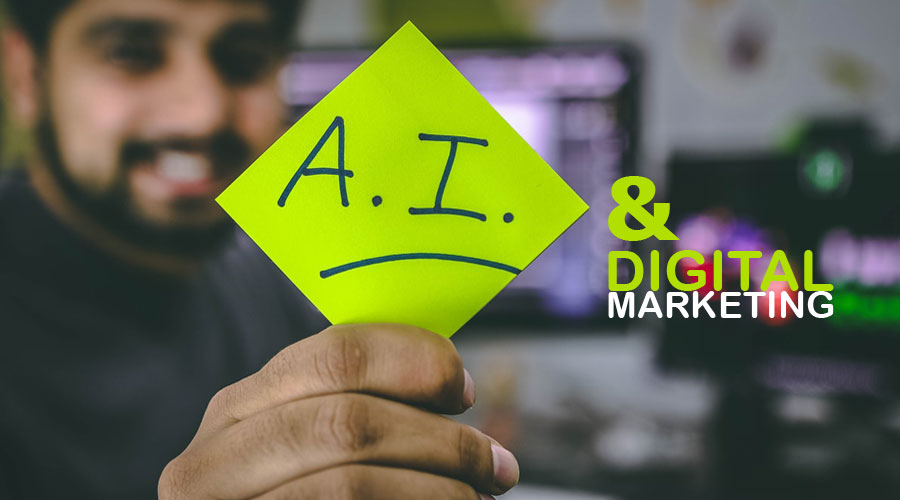 In the coming years, artificial intelligence would have an enormous influence on the digital marketing industry. There is no question that the digital marketing industry will be affected in more than one aspect by Machine learning and artificial intelligence. Marketing is changing at a revolutionary rate and we have seen significant strides in the technologies we use every day over the past 10 years.
To understand the major impacts of artificial intelligence on digital technologies, you must first understand the concept of artificial intelligence. There are several meanings for artificial intelligence, but the absolute best interpretation of artificial intelligence is that these are the systems capable of imitating human processes such as thinking and analytical thinking.
Learning and problem-solving support artificial intelligence, whatever it may be, increase the odds of hitting its programmed target. Even a temperature sensor is a kind of intelligence apparatus (the foundation of AI in computer science), but it is the capacity to modify itself that makes AI effective for web marketing. AI can be extremely quick.
Artificial intelligence is undoubtedly a wide term, and both machine learning and deep learning drop under its ambit. Machine learning is now in common use and helps computers to better adjust, improve, and rely on their experiences. Artificial intelligence has become a big part of daily life and is used by popular brands like Google, Netflix, Amazon, Uber, Apple, and more.
Today, some of the most promising developments in the online marketing environment are being driven by artificial technologies. This is how it is impacting the digital work broadly.
Email marketing
Progressively, artificial intelligence has been used to process millions of email data to figure out the best time to deliver an email. It also monitors their behavior, recognizes the concepts of the topic, and decides when they access it. This gives a broad range of metrics to assess the efficiency of an email marketing strategy. Marketers can increase the number of leads produced by streamlining it.
In terms of its straightforward strategy and cost-effective technique, sending emails has become an important part of digital marketing. Email marketing has now become a more powerful strategy than ever, and it is all with the aid of artificial intelligence. It also implemented many advantages, including personalized service, workflow, and data processing, to obtain higher conversions.
AI is crucial in updating your email marketing strategies to give your email campaign an additional lift towards more beneficial outcomes.
Search Engine Optimization (SEO)
In reality, SEO is now related to concept-based content, the creation of efficient content strategies ties, and Meta tag automation. And that's where the image of artificial intelligence fits in. To detect trends and a cloud of cyberspace information, it utilizes sophisticated machine learning algorithms.
Utilizing SEO artificial intelligence technology helps you to capture real-time and precise customization information, analyze the performance of current advertising, standardize business strategies, and organize consumer segments for specific audiences.
Not to mention, artificial intelligence has special, imaginative methods that help you to save time as well as money. Moreover, all marketing professionals are focusing on resources that can boost the position of a website throughout the hunt for guests and prospective clients. For all those concentrating extensively on digital SEO marketing, SEO tools have become incredibly important.
Content Marketing using a paraphrasing tool
The content you are writing might not be effective where the search engine is enough intelligent to understand your content and rank accordingly. Think of the writing you wrote by hours but because of less effective, it didn't rank on the search engine results page.
However, one way to defeat your poor writing is to utilize the paragraph changer that is available online for free. The rewording generator replaces the words with the effective and most suitable synonyms. This way, if there is plagiarism in your content, the tool would also remove it to make your content fresh and unique.
Predictive marketing
When combined with computing capacity, predictive analytics helps organizations to classify their future consumers or likely reactions by leveraging customized data gathered over a period.
Most of the choices that humans make are not based on rationality. Emotions, faith, empathy, social skills, inner happiness, and community all play a vital role in persuading us to purchase or make a specific decision on a particular object.
The capability to recognize these primary experiences and create insights that render scavenging more successful for prospective customers is increasingly incorporated with artificial intelligence algorithms.
For example, you have sales statistics about thousands of clients and the specific products they have ordered.
Everything you'll see without the aid of AI algorithms is a lot of complicated details, columns after columns, listing tracking numbers or titles that will not only take you somewhere but are also incredibly complicated to understand.
Personalization
AI allows marketers to develop improved user-product interactions. Utilizing AI to personalize the web experience of a consumer allows tracking the individual desires of each user, encourages advertisers to develop web applications and keyword research for different campaigns, and decreases the time it would take to handle all of the internet services.
Here are four places where AI-driven personalization can further enhance the experience of customers:
Boost suggestions for shopping based on consumer needs.
Post personalized content focused on website visits in real-time.
Raise transfer speeds online.
Offer tailored interactions based on thousands of data sets.
Customer communications
Retailers have many perceptions for their digital encounters, and they need to connect the company 24 hours a day, 7 days a week, 365 days a year is among the most overwhelming rising perceptions.
The solution to this increased competition is chatbots, instant messaging services operated by artificial intelligence.
Chatbots can help create productive relationships with customers before they can do trade with them by serving as an extension of both the website and the organization.
Chatbots are primarily thought of involving a person as a means to offer customer service or assistance.
Chatbots can be useful to help customers continue moving through the checkout process, such as responding to questions about the product, scheduling appointments, or suggesting the next steps.
Insight Integration
In collecting and combining data sources from multiple types of applications and other sampling techniques, AI is a useful strategy.
For this reason, the more it is created, the more powerful it will be to target and configure digital marketing campaigns based on consumer animations and purchasing experiences.
Consequently, AI can collect and interpret databases in a far more complex manner through meta-analysis than we can now, just using software targeted at, for example, single channels (think Facebook Insights), facilitating automation is a far more novel solution than we would probably foresee.
Conclusion
To catch up or be the best and remain on top of this technology, you need to work incredibly hard.
Nevertheless, in addition to increased participation, revenue, brand awareness, consumer satisfaction, and overall SEO, the benefits of the initiative imply that this technology can help web advertisers deliver products and solutions to consumers to meet their unique requirements.
Money invested is often an outstanding choice in the Customer Era, as it is artificial intelligence if there is some marketing strategy that supports the user experience.
Digital Marketing Audit
Get an accurate evaluation of existing performance, which helps identify new opportunities for expansion and improvement.