News & Updates
Google Updates Performance Planner
December 06, 2021 12:34:41 PM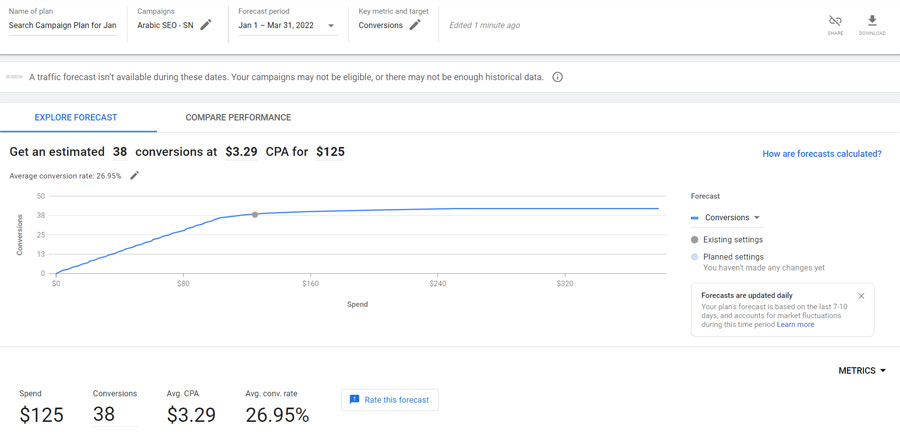 Four upgrades to Google Ads' Performance Planner tool will let customers plan numerous campaigns, make informed revisions, and more.
Performance Planner is a tool that simplifies the process of campaign strategizing by showing how particular modifications will affect important metrics and overall performance.
For Search, Shopping, Display, Local campaigns, and App, you may utilize Performance Planner to estimate clicks, conversions, and conversion values.
With the new improvements, you'll be able to do even more with this tool.
You may now include previously ineligible Google Ads campaigns in your performance plans, see why Google recommends specific modifications, estimate secondary metrics, and more.
The following are the most recent updates
Add new campaigns: You can now add previously ineligible campaigns to your plan by leveraging historical performance or manually forecasting across your whole account. Deleted campaigns, running campaigns for less than ten days, or are in a draft state fall under this category.
Understand recommendations: In a new column titled "recommended adjustments," Google will provide more thorough advice.
Secondary metrics: Gain a better understanding of the impact of modifications to your campaigns that aren't directly related to the core metrics. For example, if you're planning to increase conversions, you can now include a column that displays how clicks have changed.
Choose a time range: To get a more accurate indication of what to expect for the date range you're using in your plan, choose a historical conversation rate for that period.
Source: Google Ads Help
Automate Your Entire Marketing and Sales Processes
As a HubSpot solutions partner, we can work with you every step of the way to automate your entire marketing and sales processes.