How to Learn Google Ads for Free
Originally published: September 09, 2021 11:17:09 AM, updated: February 21, 2023 11:43:18 AM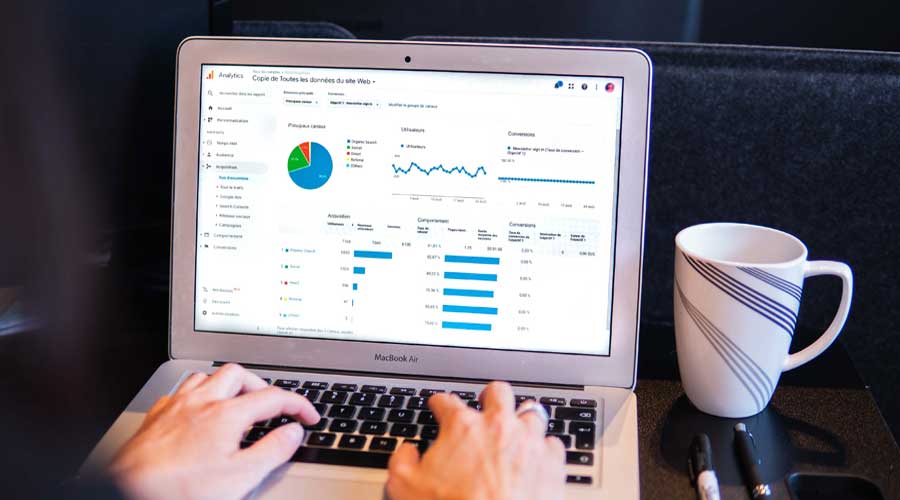 A man who stops advertising to save money is like a man who stops a clock to save time. To put it another way, advertising is a must to grow your business. There are many ads platforms that you can learn to promote your business, but I'll focus on Google Ads in this article.
If you are a small business owner and want to promote your services or products using Google Ads, you have two choices: Hiring experts to manage your ads or do it yourself. Without a doubt, hiring experts is better to save your time and money. But what about if you can't afford to hire experts. Don't worry! You can do it yourself by learning Google Ads. And I'm here to guide you on the best practices and resources to learn Google Ads.
What is Google Ads?
"Google Ads" is an advertising platform that allows advertisers to promote their services or products using different campaign types, as listed below:
Search campaign: It's also called "Paid Search" or "Search Engine Marketing" (SEM). This type helps advertisers promote their services or products on the Google Search engine and search partners. Additionally, the search campaign is triggered based on Keywords the users use when searching for a service or product.
Display campaign: When individuals are perusing their favorite websites, showing a friend a YouTube video, checking their Gmail account, or utilizing mobile devices and apps, the Google Display Network can help you reach them with customized Display ads.
Shopping campaign: Shopping ads are advertising that offers a lot of product information, such as a picture of the goods, the price, and the seller's name. Shopping campaigns comprise data attributes from the product information you supply in your Merchant Center data feed. They're displayed to consumers who are already looking for the things you're selling.
App campaign: You want to get your app into the hands of more paying users as an app advertising. So, how do you make contact with those individuals? App campaigns make it simple to promote your apps across Google's most popular domains, including Search, Google Play, YouTube, Discover on Google Search, and the Google Display Network. Simply add some content, a bid, and some assets, and the rest is designed to help your users find you.
Video campaign: Video campaigns allow you to place advertisements in YouTube videos as well as websites and apps that use Google video partners.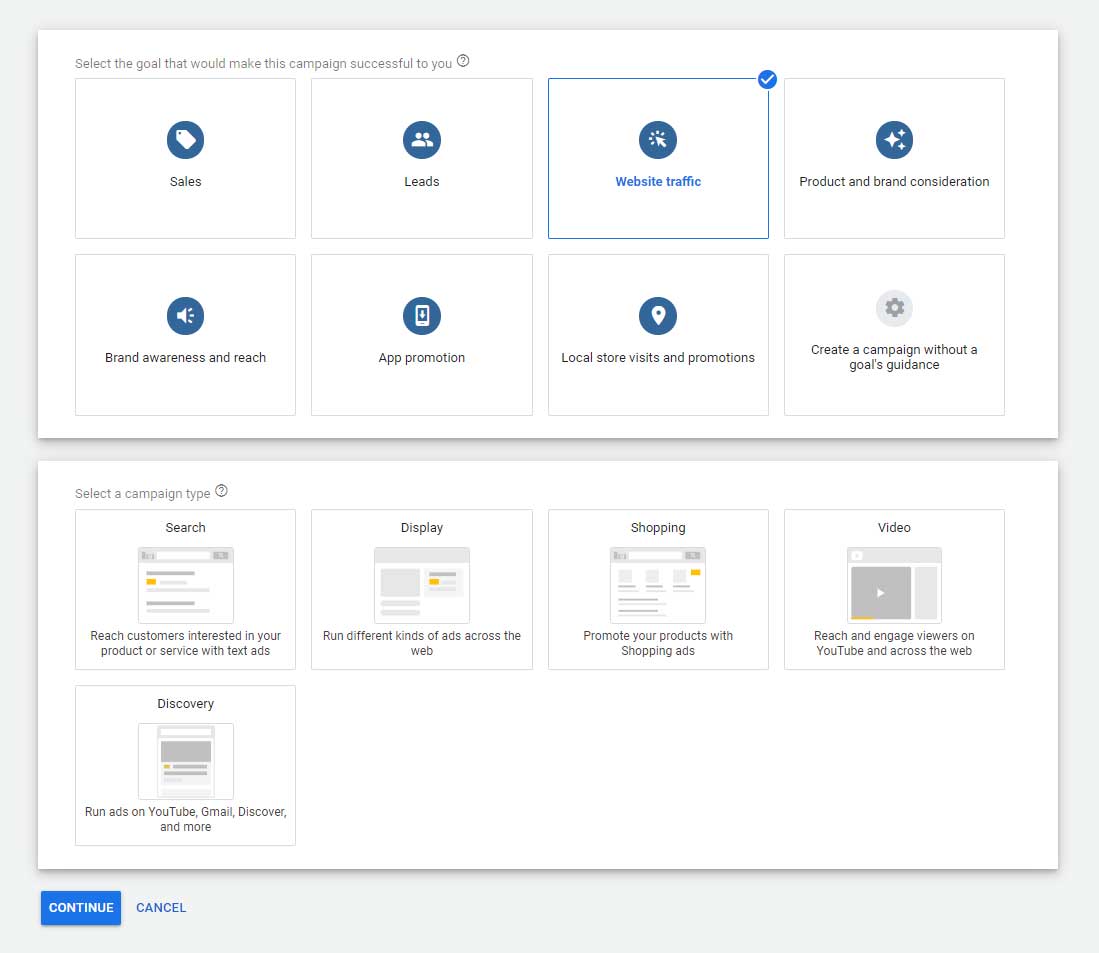 Why advertise on Google?
Google is the most popular search engine, with over 5 billion daily searches. Not to mention that the Google Ads platform has been operational for nearly two decades, giving them a leg up on the competition in the paid advertising space.
People all across the world use Google to ask questions, which are answered through a combination of paid adverts and organic results.
Advertisers make $8 for every $1 they spend on Google Ads, according to Google.
Google Ads best practices

Do you have active campaigns on Google Ads and want us to audit them for evaluating their performance? If so, a well-executed audit will be handled to help you spot issues to fix, identify areas for improvement, and give you a clear overall picture of how well your Google Ads are performing. Contact us
Don't give up if you've attempted unsuccessfully to advertise on Google. Your Google Ads could be underperforming for a variety of reasons. Let's take a look at some of the most prevalent Google Ads best practices.
1. Use a PPC planning template
Your PPC efforts will be more organized if you use a planner. You can see how your advertisements will appear online, check your character counts, and manage your campaigns all in one location using Google.
2. Avoid broad keyword terms
When it comes to keywords, you really need to nail it, which is why testing and tweaking should be a part of your plan. Because your terms are too broad, Google will show your ad to the wrong people, resulting in fewer hits and a higher ad spend.
Examine what's working (e.g., which keywords are driving clicks) and tweak your advertising to better fit your target audience. You're unlikely to get the keyword combination just perfect the first time, so keep adding, eliminating, and modifying keywords until you do.
3. Don't run irrelevant ads
You won't obtain enough clicks to justify your ad expenditure if your ad doesn't fit the searcher's purpose. Your headline and ad copy must match the keywords you're bidding on, and the service or product you're marketing in your ad must address the searcher's pain point.
It's a mix that'll get you the results you want, and it's only a few changes away. You can generate many ads for every campaign, which you can use to split test which ones work best. Use Google's Responsive Search Ads functionality instead.
4. Improve your Quality Score (QS)
Google uses your Quality Score (QS) to decide where your ad should appear in search results. The better your placements, the higher your rank. If your quality score is low, your ad will receive fewer views and conversion opportunities. Google will tell you your Quality Score, but it is up to you to improve it.
5. Optimize your ad landing page
Your efforts should not end with your advertisement; the customer experience following a click is just as crucial. When a user clicks on your ad, what do they see? Is your landing page conversion-optimized, that is, does it employ the same keywords? Is the page resolving your user's issue or answering their question? Your user should have a smooth transition from the landing page to the conversion.
How does Google Ads work?
Your ad is shown to potential leads or customers who are interested in your product or service through Google Ads. Advertisers make bids on search phrases or keywords, and the winning bids appear at the top of search results pages, on YouTube videos, or on relevant websites, depending on the sort of ad campaign chosen.
Here is a list of several things that influence your ability to develop successful and high-performing Google Ads.
AdRank and Quality Score
Location
Keywords
Match Types
Headline and Description
Ad Extensions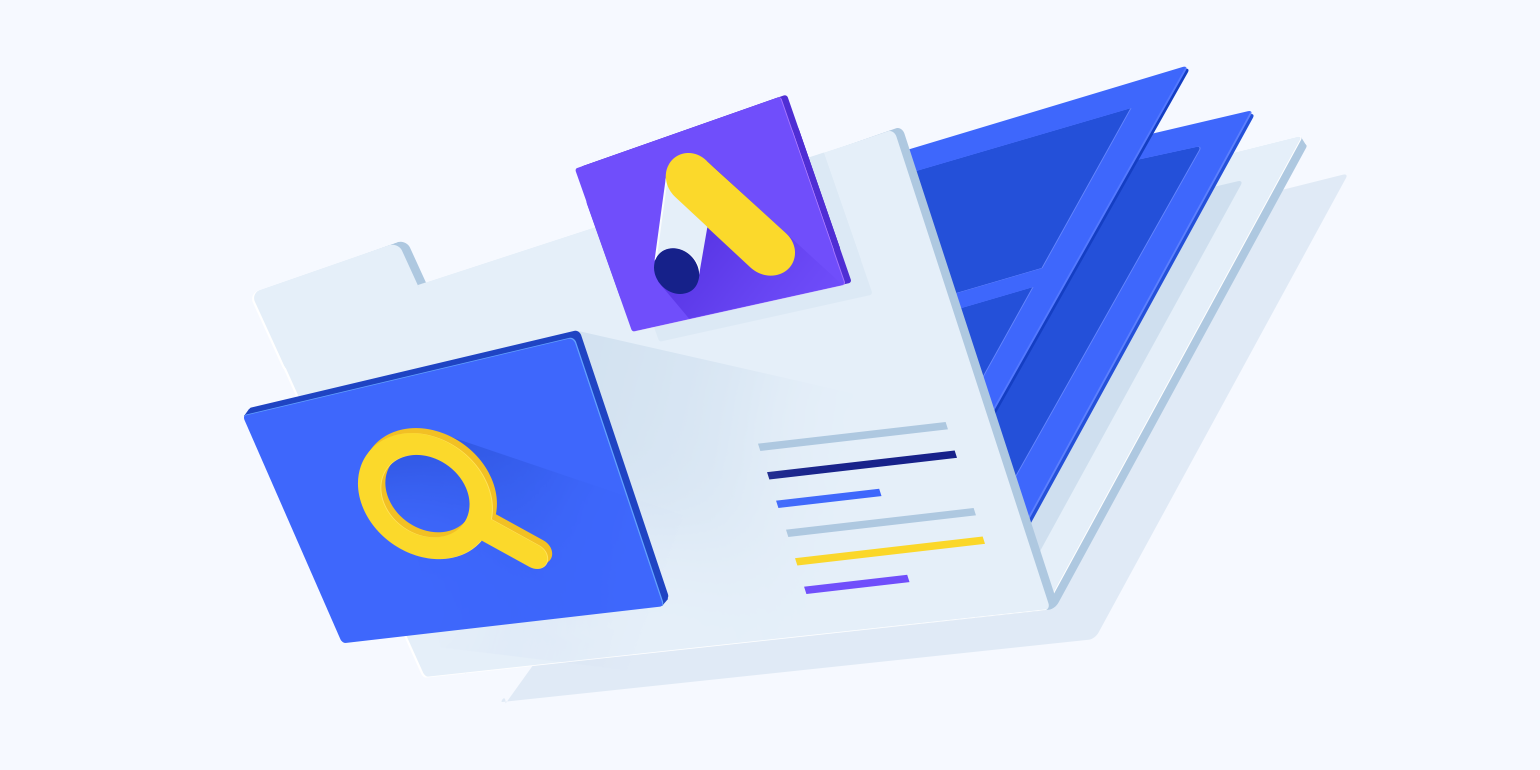 How much does Google Ads cost?
What is the price of Google Ads? It's a valid concern and one we frequently hear, particularly from novices to paid search. After all, individuals new to PPC are usually most concerned about how much they'll have to pay to advertise on Google and whether or not they can afford it!
Unfortunately, there isn't a simple, one-size-fits-all solution. The most straightforward (and most irritating) response we can give is: it depends.
This is due to the fact that the cost of Google Ads is determined by several factors, including industry, customer lifecycle, and current trends (i.e., COVID-19).
Industry
For example, Google Ads' business services vertical (legal, accountancy, real estate, and so on) is one of the more competitive verticals, resulting in higher prices per click (CPC). Because of the nature of the professional services market, a $50 CPC is a tiny amount to pay for a new client who could bring in $1k-$10k, depending on your firm.
Businesses in the arts and entertainment vertical, on the other hand, have lower CPCs, but they need to reach a lot more clients to meet the $1k-$10k mark.
Customer lifecycle
You must also take into account your customer's lifecycle. It takes longer for potential clients to move through the decision-making process for more oversized ticket items, and your company must stay top-of-mind throughout that journey—which may include multiple visits to your website, a content download or two, attendance at a webinar, and more—before taking that final step.
Current trends
Of course, as consumers and businesses modify their behavior, the cost of running Google Ads has been affected by the COVID-19 pandemic—for specific industries, positively, and for others, negatively.
During the pandemic's peak, for example, the garment business saw an increase in conversions and a fall in cost.
On the other hand, the pandemic significantly impacted various businesses, including travel and tourism, family and community, and internet and telecommunications.
Google Ads training on Skillshop
Get the product know-how to succeed with Google Ads
Skillshop (formerly Academy for Ads) is a one-stop-shop for anyone who works with Google's professional products and solutions. Skillshop provides flexible, on-demand training on Google Ads and other topics to help you expand your knowledge and professional worth.
When you sign up, you'll get access to a library of free online courses created by Google product experts that you can take at your leisure.
Google Ads training and certification on Skillshop
Learn how to manage and measure Search, Display, App, Video, and Shopping campaigns by following learning paths. The courses combine marketing strategy and product tactics and are based on real-world case studies and common company settings so that you may gain immediate marketing and product knowledge.
Get certified in Google Ads for Search, Display, App, Video, and Shopping. Obtaining Google-certified status can help you demonstrate your industry experience or simply feel more confident in your abilities to use Google Ads to promote your business online.
Learning beyond Google Ads
Skillshop also provides training and instruction for the following Google product areas, with new courses being added all the time:
Android
Authorized Buyers
Google Ad Manager
Google AdMob
Analytics Academy
Google Digital Academy
Google Marketing Platform
Google My Business
Google for Education
Waze
Here is a link to explore all courses.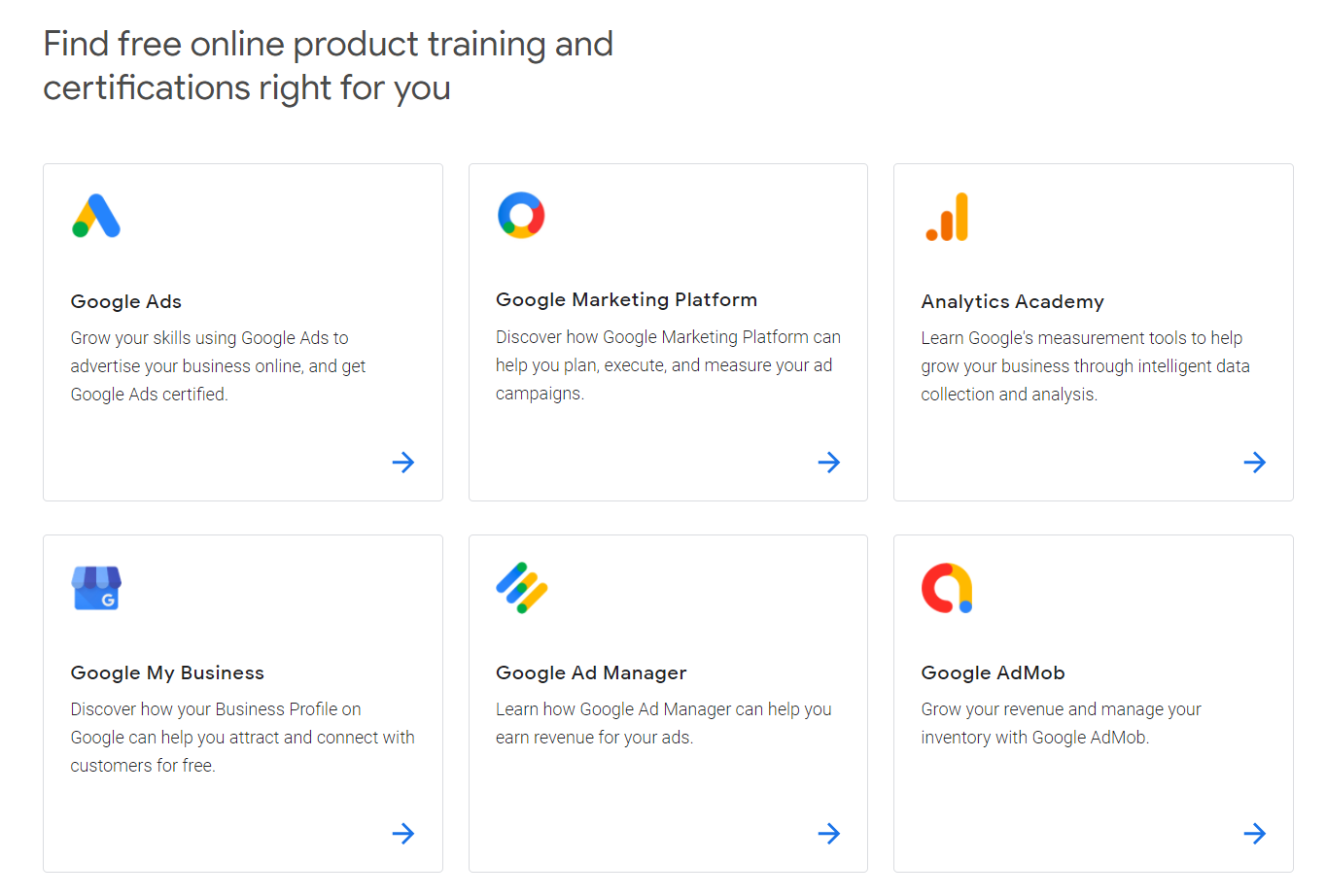 Google Ads training on LinkedIn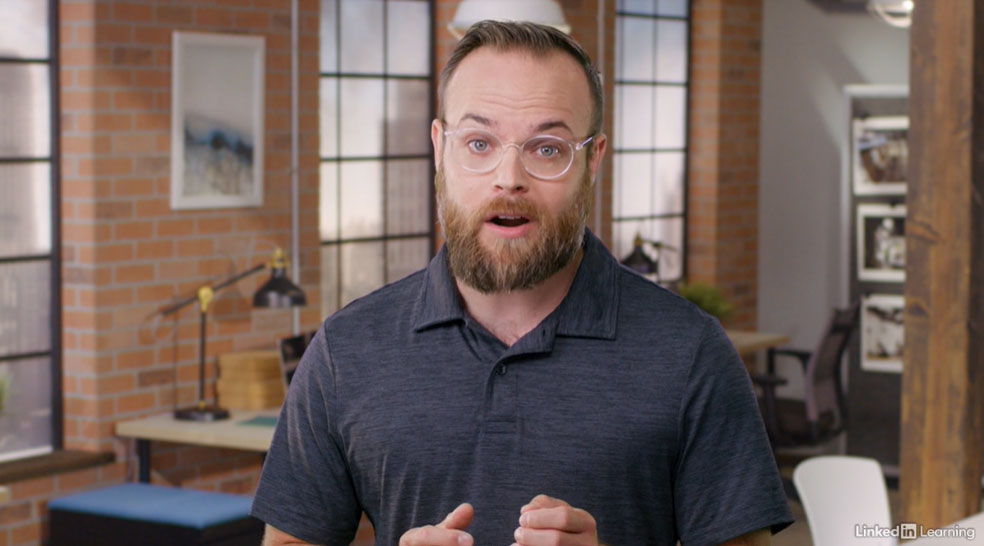 These Google Ads lessons will walk you through setting up your account, selecting the best keywords, writing successful ad copy, and tracking and optimizing your ads' performance. Start training right away to get the most out of your ad expenditure and achieve your Ads marketing objectives.
Google Ads training on Coursera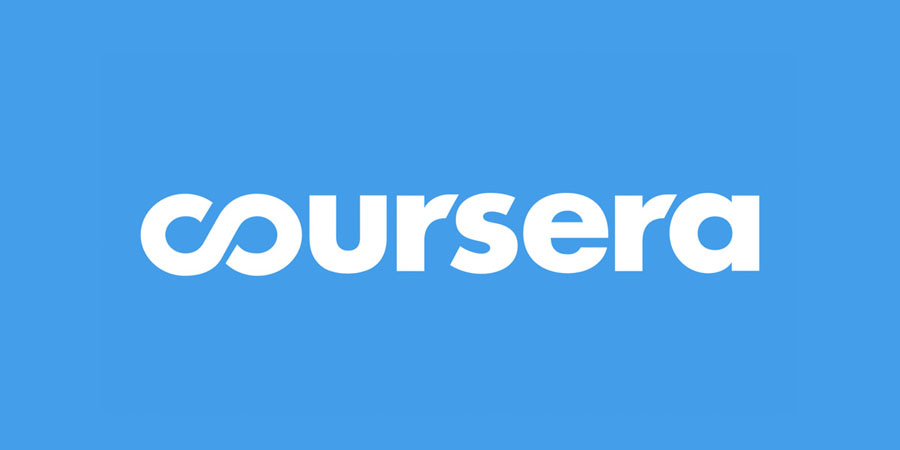 In this 2-hour project-based course, you'll learn how to get started with Google Search Ads and design effective campaigns to reach new customers and expand your business. We'll be working on Google Ads, Google's online ad platform. You'll attract qualified traffic, or the best-fit clients, to your business while they're searching on Google for products and services similar to yours.
By the end of the project, you will be able:
Create your account on Google Ads
Set up the first campaign structure
Set up conversion tracking
Add relevant audience, set bids and budgets, and targeting
Set up ad groups
Do effective keyword research
Create impactful and relevant ads
Navigate through the Google Ads Dashboard
Learn about Tools and Settings available on Google Ads
Optimize ad campaigns to generate conversions and be profitable
The best Google Ads blogs you need to follow
Google Ads blog
The Google Ads blog is the official Google Ads blog. It doesn't get any more authoritative than this, which is excellent because you can count on nothing but the most up-to-date information about Google Ads, YouTube advertising, and other relevant issues.
The WordStream blog
Wordstream is one of the most respected names in PPC marketing. Small and medium-sized businesses can use the company's software to optimize their ad expenditure and conduct more lucrative Google Ads campaigns. Their experience makes this one of the more authoritative Google Ads Blogs on the list.
HubSpot blog
HubSpot creates CRM software that enables marketing, sales, and customer success teams to provide enhanced, tailored experiences for their prospects or audiences. We can learn a lot about selling items online from them, as they are one of the leading software-as-a-service companies in the United States.
Search Engine Land blog
Search Engine Land is a digital marketing news publication that covers all facets of the industry. The blog offers guest contributions from a variety of specialist authors in addition to regular news and updates produced by staff members. Third Door Media, which also develops online courses, in-person workshops, and conferences for digital marketers, publishes Search Engine Land.
Ad Espresso blog
Ad Espresso provides automation solutions for Facebook ad platform users, allowing them to generate, evaluate, and manage advertisements with less time and effort. The Ad Espresso blog is the company's one-of-a-kind platform for sharing knowledge about Facebook advertising and PPC in general.
PPC Protect
PPC Protect is a software firm that provides an analytics solution that assists digital marketers in detecting fraudulent clicks on PPC campaigns. The application uses analytics to collect data from users who click on your ad, compare it to a blacklist of fraudulent clickers, and then ban fraudulent clickers from seeing your advertising through your Google Ads account.
Optmyzr blog
Optmyzr is a software tool that suggests Google Ads campaign adjustments and allows users to accept and implement them with a single click. Users can improve their ad wording and learn new bid tactics to boost their ad campaigns' return on investment. The Optmyzr blog has a lot of helpful information for optimizing Google Ads campaigns.
Unbounce blog
Unbounce is the obvious leader in digital marketers' landing page and conversion rate optimization software tools. Unbounce's experts know how to optimize your keyword bid strategy, landing page ad text, and calls to action to obtain the greatest results with Google Ads.
Final words
For tiny enterprises, Google Ads may be worthwhile. There are numerous advantages to advertising on Google, including the ability to reach targeted and motivated audiences, a pay-for-performance pricing mechanism, and a simple ROI tracking system. While there are drawbacks, there are ways to work around them.
If your budget is an issue, you can avoid competing with larger organizations by utilizing more longtail and local keywords, which will lower the cost of bidding on phrases that everyone wants. These keywords may not be as popular as the others, but they will still help you drive more high-converting traffic to your website.
You can quit worrying about learning how to use Google Ads efficiently. You don't have to be an expert because there are several tools accessible on the Internet today that may assist you in making the process much easier.
Got any questions? Ping me on Twitter.

Let's reveal where you're missing opportunities to drive more leads with Google Ads (starting at $90). Contact Sales
Digital Marketing Audit
Get an accurate evaluation of existing performance, which helps identify new opportunities for expansion and improvement.